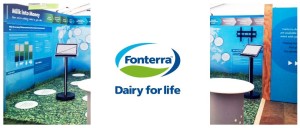 Fonterra has an annual presence at the central Fieldays event held at Mystery Creek near Hamilton in NZ's North Island. The Fonterra Ingredients business unit wished to develop a new and exciting approach around our presence compared to previous years.
TASK
Fonterra contacted Tangible Media in order to work with them in creating innovative ideas that would effectively communicate their messaging. One suggestion was to involve Ngage Media (part of Image Centre Group) in their plans providing them with the objective of developing a digital presence on the stand for Fieldays that would result in increased interaction and engagement with stand attendees and offer a different yet enjoyable experience for them.
SOLUTION
Ngage Media presented back to Fonterra with the idea of utilising the latest user friendly touch screen technology on stand to present their information and research findings using infographics to effectively get their messaging across. Fonterra immediately agreed with this approach as it met their requirements of offering a new and interesting attendee experience whilst utilising an exciting and affordable technology.
Ngage contracted Wallflower ADSL to develop an interactive solution developed entirely using Wallflower products.
RESULT
Rob Lilly – Marketing Communications at Fonterra had this to say:
"Fonterra Ingredients presence at Fieldays was greatly enhanced through the use of Ngage touch screens and Ngage's all round technology advice and services. Feedback from Fieldays attendees complimented Fonterra Ingredients on the innovative approach with our physical presence clearly standing out amongst the many others on display. We were able to monitor and record all viewing results on the devices to pull together a useful post event report. Ultimately, Ngage provided Fonterra Ingredients with the X–factor we were after to ensure this event was a success and we can thank them for making our involvement in the event a memorable one."