As Digital Signage increasingly becomes incorporated into interactive installations such as point of purchase display stands, devices such as proximity detectors are becoming an important component. The world is focused on saving energy. It is important to include detection devices into installations as far as possible to switch off displays when there is no audience.
Implementation of such devices is simple with Wallflower. A wide range of proximity detectors, pressure pads and other devices are in use with Wallflower worldwide. As an extension to this functionality, Wallflower is now able to be controlled by multiple detectors for each display.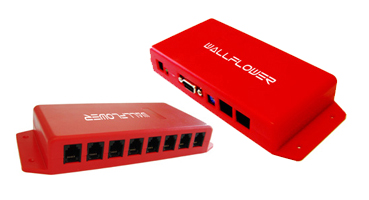 Case Studies
In display stands where a shopper has a choice of various items they would like to see information about. A hardware store may have a range of power tools on display. When a shopper presses a button close to the tool, or picks it up, the Wallflower Detective knows which tool they are interested in and can display media giving details of it.
In display stands it can also be used for security. The Detective can advise the Wallflower software that a tool has been removed from the stand and an alarm can sound or messages be sent to staff.
Similarly a touch screen could have a motion detector connected. The Wallflower software can then show welcome information. The Wallflower display can power off if there is nobody within viewing distance of the display and then power it on when a person is detected.
Minimum Requirements to use the Wallflower Detective: