Wallflower has partnered with Axis Communications to bring to market a sophisticated addition to the Wallflower Alive! Family. Building on our extensive experience with webcam based Facial Recognition systems Wallflower was well placed to benefit from the remarkable Axis Demographic Identifier.
Competing systems rely on FR using webcams and either dedicated FR processors or powerful signage players.   The Axis approach of using the security camera hardware to undertake the FR allows the Signage players to continue to be low cost units.
By providing retailers with a dual-purpose device providing both Axis security camera functionality and powerful FR functionality this solution is the most cost-effective available.
Linking in to the store Wallflower Digital Signage network the displays can automatically adjust their media to the prevailing demographics of visitors. If suitably located adjacent to an interactive device the demographics provided by the camera can configure the device to instantly deliver a targeted menu system.
AXIS Demographic Identifier Smart analytics for determining gender and age AXIS Demographic Identifier is a cost-efficient and scalable video analytics application that detects and analyzes faces of store visitors, and displays their gender and approximate age.
The application does not store images or video, so the personal integrity of customers is never compromised.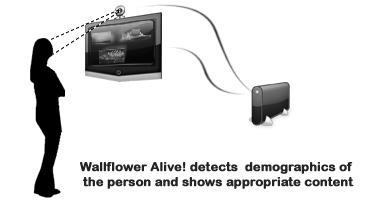 Features
Provides the most accurate audience measurement and intelligent advertising capability
Collects information about who is watching your adverts in real-time.
Changes over advertising content intuitively and delivers the most appropriate content on the basis of demographics of the current user.
Graphical presentation of effectiveness of advertisement campaigns.
Minimum Requirements to run the Wallflower Alive! plug-in:
Latest Version of Wallflower Scheduler
Latest Version of Wallflower Display
Pentium® IV 2.8 GHz or Celeron® 2.8 GHz
512+ MB of RAM
128+ Mb Directx Compatible Video Card
Network Connectivity, Windows XP® SP2 or SP3
Windows Vista®
Microsoft .Net Framework 2.0 or higher
Find out more…