Wallflower Alive! builds a demographic profile of who watches the advertising, when and for how long. Wallflower's AdWatch® module provides a wealth of statistics such as the number of people looking at an advert, the genders, and ages of viewers. This can be segmented by time and directly related to the adverts playing at the time.
Wallflower Alive! knows when your customer is present and paying attention to your advertising or display area. Advertising can be streamed to begin only when someone is in the target advert/area or actually looking at the display.
A comprehensive set of graphs and reports can be prepared allowing media planners to rapidly assess the effectiveness of campaigns. An intuitive interface allows slicing and dicing of results with drilling down to the underlying data.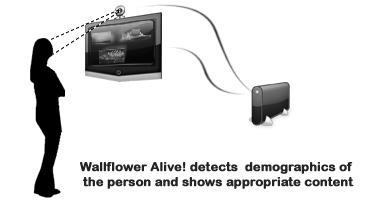 Features
Provides the most accurate audience measurement and intelligent advertising capability
Collects information about who is watching your adverts in real-time.
Changes over advertising content intuitively and delivers the most appropriate content on the basis of demographics of the current user.
Graphical presentation of effectiveness of advertisement campaigns.
Minimum Requirements to run the Wallflower Alive! plug-in:
Latest Version of Wallflower Scheduler
Latest Version of Wallflower Display
Pentium® IV 2.8 GHz or Celeron® 2.8 GHz
512+ MB of RAM
128+ Mb Directx Compatible Video Card
Network Connectivity, Windows XP® SP2 or SP3
Windows Vista®
Microsoft .Net Framework 2.0 or higher