The Wallflower Site Manager is an indispensable tool for all users of Wallflower or other Dynamic Digital Signage Software who manage networks of screens. The site Manager provides constant automatic monitoring of the status of your displays and routers.
It is able to alert technicians to problem areas such as network disconnections or PCs powered off.
It includes an asset management facility to allow you to record details of all signage hardware assets on the network and to record issue histories. The network scanner function can discover devices on the network and add them into the asset database.
Included in the Site Manager is VNC viewing and remote management capability. Able to display thumbnails showing what is on screen in real-time and the ability to take control remotely makes this a valuable maintenance tool.
The screen below shows a typical Site hierarchy on the left with the Site List to the right.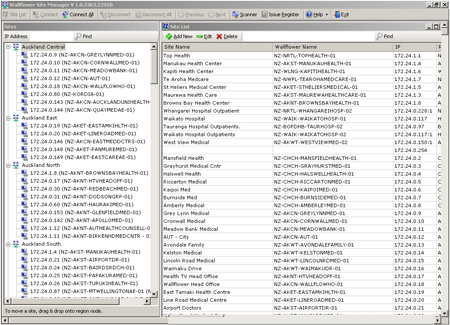 The screen below shows the Site List scrolled across to reveal typical asset information details stored for each screen.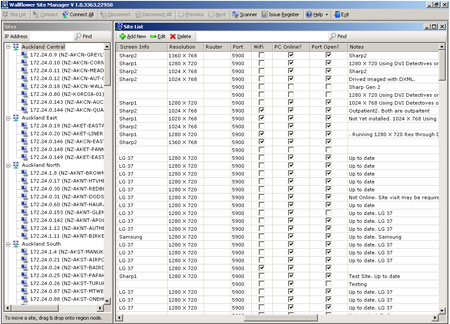 Below is the Site Manager showing the Network Scanner. Routers, PCs and Ports are scanned and the status shown by the colour coded icons on the left.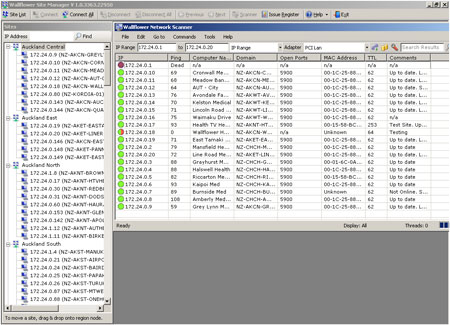 The screen below shows thumbnails of what is playing in real-time. The user clicked a group of screens from the Site hierarchy and the Site Manager connects and displays them.
To take remote control of any site is simply a matter of clicking on the thumbnail.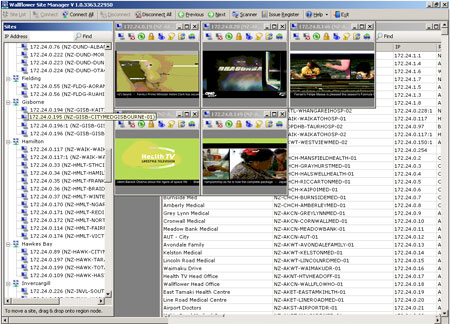 The Site Manager allows you to set up the frequency of scans, details of email alert recipients and the email message to be sent as shown below: