Wallflower is in use delivering content onto a wide range of display types. These range from small LCD monitors through large format Plasma varieties to include some of the world's largest projection and LED Videowalls.
Wallflower works seamlessly with interactive display technology to provide touch screen functionality for kiosks and similar requirements.
The Wallflower Display player is extremely robust and works intelligently to continuously monitor display hardware for anomalies. The Wallflower Display Manager provides rapid intuitive installation and configuration. Running on Microsoft Windows platforms from 2000 onwards the Display software can drive multiple Display screens from one unit. Depending upon the specification of the PC and requirements of the Media, Wallflower can display many completely independent Schedules of Media simultaneously.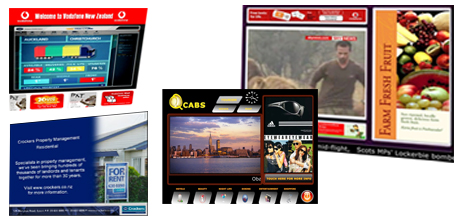 Features
Runs Independently – Once the content is downloaded onto the Wallflower Display target PC, it can run as a disconnected player. This ensures optimum use of network resources.
Thin Client – The Wallflower Display doesn't require any database to be installed on the target machine.
Interactive Displays – The Wallflower display allows user interactivity. In-built interactivity saves the huge cost of developing flash based media content.
Secured FTP distribution – Wallflower Pony Express functionality uses an ftp site to store Schedules and Media. Displays then download either frequently or at off-peak times.
Supports USB distribution – The unique hybrid USB key option stores updated information on an ftp site. Display users are advised automatically by email to update their keys. After plugging them into any Internet connected PC the keys are updated and then plugged into the Display PC to complete the process.
Symantec Altiris Distribution – Wallflower includes an option to utilise the Symantec Altiris Network Management product to deliver Schedules, Media and manage bandwidth.
Remote Management – Wallflower uses a variety of Remote Control products to provide remote monitoring and management of Displays. This allows Wallflower to work with the users' own preferred product. Currently networks are in use with remote control packages including: Radmin, LogMeIn, RealVNC, UltraVNC, Hamachi, Windows Remote Desktop and many others. The Wallflower Site Manager is a centralised program which allows you to manage all your screens from one program.
Minimum Requirements to run the Wallflower Display:
Pentium® Core 2 Duo or Atom 1.8 GHz or Equivalent
1+ GB of RAM
512+ MB DirectX Compatible Video Card
Network Connectivity (For Network Version)
Windows 10, Windows Vista®, Windows 7®,Windows 8®,Windows Retail POS®,Windows Embedded®
Microsoft .Net Framework 2.0 or higher