The Wallflower Scheduler allows you to effortlessly Schedule and Manage from one to thousands of displays. Using a unique 'Template' approach any size of display can be formatted to show an unlimited combination of media. Schedules can be built for delivery to groups or individual displays. Beyond a simple 'play list' system, Wallflower allows Schedules to play at any time.
Constantly monitoring display status, Wallflower goes beyond providing a simple dashboard approach. Developed by experts in Business Intelligence systems, Wallflower not only provides status information but is able to make informed decisions wherever possible to recover from failed network connections or other anomalies. Alerting support staff only when necessary via email, SMS or cell phone, Wallflower keeps costs down and reduces the need for constant physical monitoring.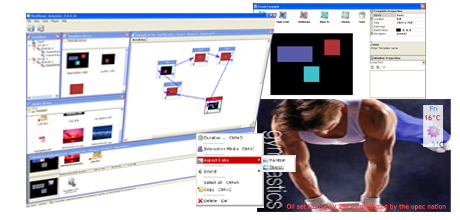 Features
Simple User Interface – Its simple drag and drop interface allows you to create your schedules in no time.
Template Layouts – You can layout your screen into many window templates showing different content at the same time.
Revolving Playlist – The content playlist in each window template can revolve around so that you don't have to schedule the same content over and over again.
Overrides – Create timed playlists with the same workflow as revolving playlists to override content at specific times.
Multiformat file support – Supports all popular Windows format images as well as Flash, RSS Feeds, Web pages, Videos including AVI, MPEG-1 to 4, QuickTime and WMV, TV and Video, live input from Spreadsheets and Databases, TV capture and IPTV.
Instant Messaging – Instant messages can be delivered to all or selected screens in real time.
Player History – The Wallflower Players optionally keep a comprehensive history of all events that take place. This forms the basis for the Analytics used for uniqe slice and dice analyis and proof of play lists. Wallflower includes powerful interactive history either from applications created within the Wallflower Scheduler or from Flash based media.
Role based User Management – Wallflower allows hierarchies of users to be created. Using a hiding technique users are only aware of the displays and media they are authorised to schedule.
Wallflower Analytics – Wallflower Analytic's Interactive displays give your customer demographically accurate and detailed visitor histories, now even more focused with the Wallflower Alive! facial recognition system. Combined with sales statistics, this reliable quality data from Wallflower Analytics leads to better informed decisions for your client campaign and network managers.
Dynamic Folder – Unique to Wallflower this feature plays the entire contents of a networked folder.  Users can change the folder contents any time without the need  to learn
how to Schedule.
Minimum Requirements to run The Wallflower Scheduler:
Pentium® Core 2 Duo 2.93 GHz or Equivalent
2+ GB of RAM
512+ MB DirectX Compatible Video Card
Network Connectivity (For Network Version)
Windows 10, Windows Vista®,Windows 7®,Windows 8®,Windows® Server all versions from 2000 on
Scheduler may run on a Virtual Machines
Microsoft .Net Framework 2.0 or higher
Any version of Microsoft® SQL Server from SQL Express 2005 on including SQL Server 2016