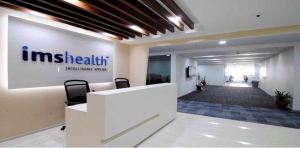 IMS Health is a leading global information and technology services company providing clients in the healthcare industry with comprehensive solutions to measure and improve their performance.
End-to-end proprietary applications and configurable solutions connect 10+ petabytes of complex healthcare data through the IMS One™ cloud-based master data management platform, providing comprehensive insights into diseases, treatments, costs and outcomes. The company's 15,000 employees blend global consistency and local market knowledge across 100 countries to help clients run their operations more efficiently.
The Requirement
IMS Health (Bangalore) was looking for a digital signage solution for internal employee communication at their new Office in Bangalore. They have 15 Floors housing a large staff with each floor having large LED Screens. The ground floor has 3 large LED Screens with a total of 15 screens in their Bangalore Office. They did not want the LED Screens just to show live TV Channels but wanted to use them effectively for internal employee communication, displaying important messages, company promotional videos, presentation files, work schedules, live RSS Feeds/text Feeds, event information and other corporate communication messages.
The Solution
The IMS Health Digital Signage solution was provided by one of the Wallflower Advanced Digital Signage premium partners. It provides central control and content management of the Display Screens from a server machine. All the TV screens inside the building display different content with scheduling management being handled by the Corporate Communication and Marketing team.
The Result
The Corporate Communication Team is happy with the solution as the new office now looks elegant and stylish and they can display IMS health Content digitally from a central location and manage it effectively. They are now displaying videos, presentation files, welcome messages, ticker data and images on all 15 Big LED screens across all floors.