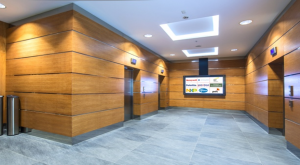 Aon Hewitt  Case Study
Aon is the leading global provider of risk management, insurance and reinsurance brokerage, and human resources solutions and outsourcing services. With more than 66,000 colleagues worldwide, Aon empowers results for clients in over 120 countries via innovative and effective risk and people solutions and through industry-leading global resources and technical expertise. Aon has been named repeatedly as the world's best broker, best insurance intermediary, best reinsurance intermediary, best captives manager, and best employee benefits consulting firm by multiple industry sources.
The Requirement
Aon Hewitt (Gurgaon) was looking for a digital solution for internal employee communications, initially at their Head Office in Gurgaon and then extended nationwide. At HO they have many staff spread over 15 Floors with each floor having large LED Screens. Nationwide a total of 77 screens are spread across their offices. They wanted the Screens to show more than just TV Channels and Videos and to use them effectively for internal employee communication to better engage with their employees. They wanted to display important messages, work schedules, bus time tables, important event information and other corporate messages.
The Solution
Through one of their premium partners, Wallflower Advanced Digital Signage provided Aon Hewitt with a Digital Signage solution that can be centrally controlled from their HO. This controls all the display screens in their Indian offices and manages display content. They use advanced Wallflower functionality including the ability to display Travel Time table schedules. These are shown every 4 hours in between other content, saving resources such as printing and avoiding having to email time tables to all staff.
The Result
The IT, HR and Corporate Communication teams combined are pleased with the solution as it has delivered to the brief and saved many resources including time, money, printing, emailing and conducting meetings to inform employees. They centrally control the LED display screens managing and scheduling content for individual offices and locations within each office. Some of the locations managed centrally include Gurgoan HO, Mumbai, Noida and Bangalore. They are planning to extend the Digital Signage solution into their new huge upcoming Office in Gurgoan which will be completed by 2016.